25 Oct

5 Tips on How to Play Guitar with Good Technique

Don't Just be 'Ok' with what you are passionate about. Consistent dedication and practice after Guitar lesson San Antonio can literally enliven your chords and make you better at playing the guitar. Our San Antonio guitar lessons do give you a strong foundation to play classical songs and heavy rock hymns, but to properly apply the guitar learning with good technique does require commitment and practice on a regular basis.
Here are some of the Best Tips to Learn Guitar with Good Technique.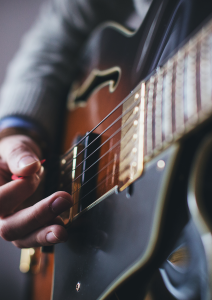 (a) Rehearse Standing Up and Sitting Down with Your Guitar. The first thing you need to learn is how to carry your guitar while waltzing around. It is important because one day you'll be standing up in front of the crowd and you'll be playing your guitar while slinging around your shoulder in a different posture. On the contrary, it looks cool.
(b) Don't Rush for Speed. Going too fast is a very common beginner guitar mistake. You are actually missing out on the right chord notes and often lead to a bad playing habit. Your actual speed should be as per your focus capability. Instead of blasting off at full speed, we would recommend taking your time, playing slowly and learning the right chord first.
(c) Learn To Use Correct Fingering. In our guitar lessons San Antonio, our professionals will show you exactly which finger should be playing certain notes and the best way to play guitar chords & scales. It helps in setting up a precise variation and composition while playing the guitar.
(d) Maintain Discipline at Your Practice. Practicing the latest guitar lesson keeps you one step closer to perfection. Do remember one thing that good technique does require a strong command over your finger and being consistent with practice builds up a better version of yourself.
(e) Don't Practice What You're Already Better At Playing. If you keep on playing the tune you know better, you are merely steering to progress. In order to forge ahead, push yourself, run through new songs and evolve as a player. A professional guitarist can play hundreds of songs without missing a chord – this should be your ultimate mission.
PIANO GUITAR SINGING LESSONS is a music school where we teach a variety of instruments, genres and styles. Since our high-quality music lessons are being managed by accredited teachers, as a customer, you won't be disappointed with the quality of our lesson. For guitar lessons in San Antonio, come and speak with our consultant today.