Why San Antonio Arts Academy is Texas #1 choice for music lessons
Kids Music Network has evolved over 30 years to become the San Antonio Arts Academy. Teaching students between the ages of 4 to 94. We teach piano, Guitar (electric and acoustic ),  Drums, Bass Guitar, Ukulele, Vocal & Singing. All are taught under one roof.
Instruments:
We teach lessons in Guitar, Piano, Singing, Voice, Drums, Bass, Ukulele & Intro to Music: (A 6 to 8 week introduction to Piano, Guitar, Drums & Ukulele.) This will help to make your decision to choose an instrument you love.
1. Piano, Guitar, Drums, Voice, Singing, Bass, Ukulele in ONE location!
All acoustic Pianos, Electric & Acoustic Guitar, Drum set, Voice, Singing, Bass, and Ukulele in one location. you can bring your phone ipad or any mobile device to give you the BEST music lesson experience. In addition to the lesson we give you an ALL ACCESS instructional video of every lesson.
2. Qualified teaching faculty in San Antonio.
We have excellent music teachers, all with either college training or years of professional performance experience. Our music teachers are dedicated to learning about your personal musical goals and helping you to achieve them. We are confident that we have the right teacher to meet your music lesson needs. In addition to their teaching credentials, our teachers have warm personalities, are extremely friendly and dedicated to teaching you the style of music that you want to learn.
3. The widest range of music lesson times available seven days a week!
We offer music lessons seven days a week from morning to evening to accommodate your busy schedule.
9:00 a.m. – 9:00 p.m. Monday – Friday.
10:00 a.m. – 4:00 p.m. on Saturdays.
12:00 p.m. – 3:00 p.m. on Sundays
4. A proven track record of excellence since 1990.
Visit our page to see what our students and parents are saying. The Academy has a proven track record of offering quality music, lessons in San Antonio. Our full time mission is teaching quality music lessons, trusted by San Antonio families for over 30 years.
5. A comfortable studio for our students.‍
We have the most parent friendly studio.
Our parents enjoy a comfortable, professional studio with comfortable chairs, We welcome parents to sit in on their lesson anytime you like.
6. Technologically advanced and fully stocked music studio.
Our studio is stocked with everything you need for music lessons, including amps, stereos, full drum kits, keyboards, pianos and more. All you need to bring is YOUR instrument.
Technology is also a big part of lessons at the San Antonio Arts Academy.  We can attach to iPods, iPads, or laptops. This allows students to have a modern and engaging lesson using music teaching apps, music software, Skype, and more. Feel free to "Bring Your Own Device" to your lesson in addition to your instrument!
One of the things that has really set us apart is our focus on providing lessons that are fresh, new, and engaging.  It's a challenge to engage children or adults, but by integrating technology such as teaching apps from the iTunes store, GarageBand, ProTools, you name it, we're providing a cutting edge lesson experience in the San Antonio area.
7. Music recitals
Every parent just wants to know how their child is doing and if they are really progressing. The best way for a parent to understand if their investment in lessons is really worth it, is to have their child participate in a recital.
Every 8 weeks, many of our students may choose to perform in our class performance's, recitals and concerts throughout the city. We hold these at various local venues.
8. Professional staff seven days a week to serve you.
We offer professional customer service for students seven days a week.
We are available to assist our clients quickly and professionally.
9. Trophies, certificates and awards to celebrate achievement.
We give students the opportunity to earn trophies AND certificates. Do other schools offer trophies and certificates? A few.
More importantly when our students have a recital coming up, they practice more, their parents are proud, their teachers are proud, and everybody wins. We also specialize in music lessons for adults.
10. Student Music level wristbands.
We offer student wristbands to signify the elevation of each students' progress.
At the San Antonio Academy, all of our current students receive a student wristband. The wristband shows that student's level of music knowledge. From beginner, to intermediate, to advanced level, each student will be able to recognise the level of their musician peers, simply from the color of the wristbands.
11. Early morning and lunchtime lessons for homeschoolers, retirees, college students and working professionals.
We are able to be a 'full service' music school. This allows us to offer lessons as early as 9 a.m. and we see many students between the hours of 11 a.m.-2 p.m. If you are a homeschool parent, retiree, college student or working professional who has a flexible schedule, take advantage of our early morning and lunchtime lesson spots.
12. Located in the heart of San Antonio.
Due to its central location, our school is convenient to all areas of North and Central San Antonio. Close to our school, you will find great shopping, dining and the quaint neighborhood area of Northwest San Antonio. Our location is convenient and we have many students from all over San Antonio and the surrounding areas like Boerne, Helotes, Castle Hills, Devine.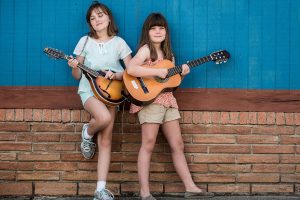 13. Picture Day
We offer a picture day for our students. Every year we will host a picture day. This is a service that our student's parents love as they all want quality photos of their children (example pictured right). Adults are welcome too! Students can bring their instruments to the photo shoot and wear whatever they like.
14. Quarterly, Semi Annual and Yearly lesson plans available.
The Academy offers different plans to suit your budget.
If you are ready to start, you have nothing to lose. We love to have students who truly want to learn. Let's start YOUR music journey today!