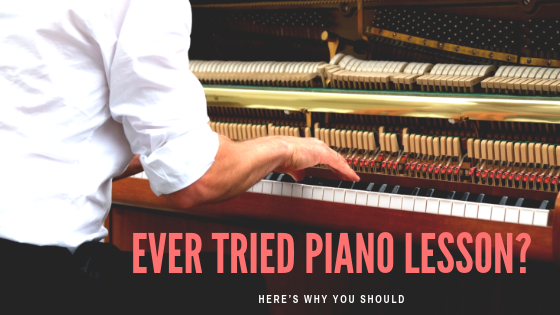 17 May

Ever Tried Piano Lesson To Bring Back Your Creativity? Here's Why You Should.

Music has always proven to be the most effective source of inspiration and certainly helps in rediscovering the level of creativity. And if you are out of creative fuel, then you've got to rediscover it with a piano lesson in San Antonio. A creative block is something that almost every person faces these days and its mainly caused when you're going through personal problems, emotional barriers, tediousness or similar things that takes the passion away from you.

Before we dive in further, let's first understand how your mind reacts when you learn a piano? Learning piano is more like an exciting juncture where you feel immersed and when your brain starts to process melodies, it pulls on our heartstrings. It's a brimming of unexplained emotions and you transcend the reality. When your brain starts to identify the chord & rhythm, it gets away from the worry, stress or anxiety. Even though piano tunes can be unifying, its effect is quite similar to everyone's brain.
The Happy or Sad Rhythm Affects How We See Neutral Faces. This isn't just a subjective idea. Our brain actually responds differently to happy or sad faces. Piano lesson affects your 'perceived emotions' and 'felt emotions'. And there comes an instance when we understand the true sentiment behind a piece of music without actually feeling them.
Piano Lesson Improves Your Imagination. When you play the piano and sing along, you start to hallucinate and it's proven to be the sweetest spot for creativity. For some people, learning piano serves as an escape from ordinary life and revitalizes the brain.
Learning Piano Can Predict Your Personality. Other than all these, the piano lesson also enhances the five personality trait of human beings. Experience to openness, extraversion, friendliness, meticulousness and emotional stability.
Learning Piano Keeps Us At Soothing State. With piano lessons, you confer yourself a chance to relax, rejuvenate, revive and think of life from a different perspective. It hits straight into your mind, body, and soul.
Learning piano improves visual attentiveness. The training and exposure you gain broaden your horizon and enhances your think capacity. Besides, the beats and rhythm stimulates your senses and override the fatigues, which evidently help us to feel better.
Not just one, there are plenty of reasons to consider piano lessons near me to Kickstart your creativity. To learn more about our piano lessons in San Antonio, do stop by at https://pianoguitarsinginglessons.com.