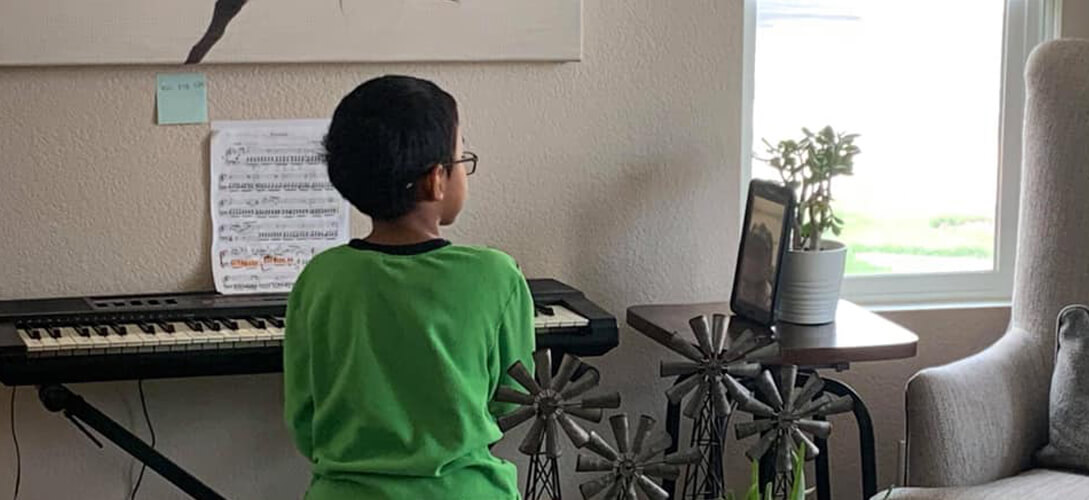 11 Aug

Online Zoom and Skype Piano Classes for Kids

Musical growth requires exposure at an early age. It supports cognitive and intuitive foundations. So, if you have a connection providing fast internet and the presence of webcam, one can sign up for zoom piano classes and take their journey ahead through online sessions. It is not possible to provide in-person piano classes for beginners, and therefore sessions conducted via zoom, Skype or FaceTime, prove to be efficient and effective.

Piano lessons teacher at San Antonio Arts Academy ensure the in-person lesson's principles can be applied even during the online zoom piano classes. Even when the medium differs, the product is still the same.

Zoom piano lessons for children

Teachers today enjoy working with the children through the online Skype piano classes. They find it a better fit than in-person sessions. Apart from this young generation is already used to experiencing their life and learning through the screen, and when it comes to technology, it has proved to be fun.

Piano lessons for kids at home provided by San Antonio Arts Academy is not only engaging but also entertaining. The concerned piano lessons teacher insurance to provide the strong student foundation buy the music theory, some important techniques, reading, and much more. The sessions might have shifted online, but the philosophy of teaching through unique ways still remains the same.

Virtual piano classes Texas and its learning

Not much of the equipment is required for piano lessons for kids at home. The presence of a webcam, mic, stable internet connection, headphones, a piano, or keyboard is all one would require for zoom piano classes.

The teachers at San Antonio Arts Academy make sure that the kids taking the online piano lessons can become independent musicians. They provide every fundamental and playing technique in many genres of music. Proper time is also provided for practicing the playing technique, which will prove valuable in the coming years. Students are requested to remain open as the stations continue from classical music to rock and provide sessions to make one pro to achieve the musical aspiration.

Building a solid foundation through online Skype piano lessons

The private lessons provided online are tailor-made for the students based upon their interests and goals. It helps them discover and retain the proper Joy of music and their artistic expression within. If one aspires to become a professional pianist, the instructions provided through the online zoom piano classes will help one move ahead with.

If one is still looking forward to why they should be taking online piano lessons, remember it is easy to simply turn on the computer, sit down with the keyboard or piano, and enjoy the comfort of home. The musical institutions like San Antonio Arts Academy have provided an online platform for the children to learn piano in a better manner, taking lessons from anywhere.

Contact San Antonio Arts Academy for Zoom piano classes

Whether in which region or country one lives in, if the child has a willingness to learn, San Antonio Arts Academy is readily available to provide the online lessons that might be perfect for the kids. No matter if there is a time zone difference or the distance issue, the best in class piano lessons teacher availability, they continuously provide learning. So, connect today and get the advantage of modern facilities availability.